Welcome to the eleventh issue of the Procura+ Update. This newsletter brings together the latest news from the Procura+ European Sustainable Procurement Network and ICLEI's work on sustainable and innovation procurement.
To subscribe to this newsletter, click here or send an email to procurement@iclei.org
---
CONTENTS

HOT TOPIC: 16 candidates in the running for Procura+ Awards


PROCURA+ NETWORK: Procura+ cities towards zero emission procurement

PROJECT NEWS: New projects bring opportunities for procurers


OTHER NEWS: African city leaders launch the Procura+ Africa Network
16 candidates in the running for Procura+ Awards

The scene is set for the 2019 Procura+ Awards, with 16 candidates now through to the next round of selection in the run up to the Award ceremony at Nordic Edge in Stavanger, Norway, where the winners will be unveiled.
The 16 candidates have been selected from a strong field of over two dozen entries in four contest categories: Sustainable Procurement of the Year, Innovation Procurement of the Year, Outstanding Procurement in ICT, and Procurement Initiative of the Year. With four nominees for each category, the scene is set for a close contest.
Among this years' nominees are Procura+ participants City of Ghent (Belgium) with their procurement of sustainable workwear, the Catalan Governement (Spain) with a sustainable framework contract for cleaning services, the City of Helsinki (Finalnd) with their innovation procurement for their historic stadium. Procura+ participant City of Växjö (Sweden) was nominated for their sustainable food procurement. Nominees for the Procurement Initiative of Year inlcude Procura+ participants City of Oslo (Norway), City of Zurich (Switzerland), the Dutch Rijkswaterstaat, and the Basque Environmental Management Company IHOBE (Spain).
This year's jury is comprised of high-level representatives with vast experience in procurement practice and policy making. Katrin Stjernfeldt Jammeh, Mayor of Malmö and Procura+ Network Chair, Janos Bertok, Head of the Public Sector Integrity Division at the OECD, and Marzena Rogalska, Acting Director of the European Commission's DG Grow and Global Director of ICLEI's Procurement Centre Mark Hidson are all taking part in the judging process.
The Award ceremony will take place at Nordic Edge, on 24 September 2019. Nordic Edge promotes solutions for smarter cities and communities and aims to be one of Europe´s most important arenas for knowledge exchange and inspiration to creators of smarter businesses, cities and societies. Established in 2015, Nordic Edge is by far the largest Smart City event in Norther Europe.
For more information on the 2019 awards, visit the Procura+ Awards page.
Copyright image: ICLEI Europe

Procura+ participants lead the way towards zero-emission procurement

Three Procura+ participants have released Innovative Procurement Plans for zero-emission transport in procurement, to be implemented in the coming years.

Oslo (Norway)'s zero-emissions plan covers procurement broadly; they have also released a guidance document outlining recommended environmental requirements that can be used in procurement that includes transport. Rotterdam (The Netherlands) has created plans for zero-emission transport in procurement of Construction Materials, and for Craftsmen Service Contracts. Copenhagen (Denmark)'s plans cover Supply Consolidation as a way to lessen emissions, and zero-emission transportation for Craft and Facility Management Services.

These plans have informed a new handbook, Procuring zero emission delivery of goods and services. By drawing on the three cities' experiences, the handbook, produced as part of the BuyZET project, coordinated by ICLEI, assists local authorities to reduce the carbon footprint of their procurement activities. Furthermore, it sheds light on how cities can fight climate change not only through municipal policies, but also as consumers.

The public sector is a major consumer of goods and services. More strategic and sustainable planning regarding the procurement and transport of these can thus have sweeping effects on both reducing emissions and traffic. Taking these bold steps in transport procurement emphasises the lighthouse role that both Oslo and Rotterdam already hold as member cities of the Global Lead Cities Network (GLCN) on Sustainable Procurement.

Read more...
Image copyright: Unsplash

New projects bring opportunities to procurers to boost their procurement power

ICLEI is excited to bring opportunities to procurers to engage with suppliers and public authorities across Europe to discover and shape new innovative and sustainable solutions to their purchasing needs. ICLEI can link procurers' plans and needs with funded projects, such as the Big Buyers Initiative and the Innovation Procurement Brokers, that can bring procurers closers to other buyers or suppliers.
The Big Buyers Initiative is a European Commission platform for promoting collaboration between big public buyers in implementing strategic public procurement. ICLEI is looking for ambitious and committed public authorities willing to work together to develop pioneering approaches to procurement, and develop strategic joint actions to help move the market. For that, different working groups on different procurement sectors are being set up. Practitioners interested in joining, just have to check the Big Buyers Initiative webpage.
On the other hand, the Innovation Procurement Brokers is a project that brings public buyers and suppliers of innovation together. If you are a procurer and already have a need, ICLEI and other expert partners can connect you with SMEs and start-ups from across Europe that can provide or develop innovative solutions to meet your challenge. If you are at an earlier stage, the Innovation Procurement Brokers team can also support you to identify and refine your needs.
Image copyright: Pixabay
More from our projects
African city leaders launch the Procura+ Africa Network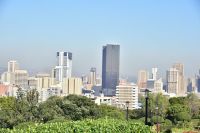 This week at the African Capital Cities Sustainability Forum, ICLEI Africa launched the Procura+ Africa Network. This is a major step toward supporting African local governments to work together to reap the benefits of sustainable public procurement (SPP). The network was founded with the goal to increase and deepen implementation of SPP in South Africa. Working together, the members of the network can learn from each other's good practices in SPP and cities are able to further the implementation of SPP at higher political levels. It is also envisioned to facilitate joint procurements and increased collaboration with market parties and research institutions.
Representatives from African cities were invited during the launch to join the network to learn from each other and share best practices to implement sustainable public procurement, benefitting the economy, the environment, and the society.
The founding members of the Procura+ Africa Network include:
City of Tshwane
City of Cape Town
City of Ekurhuleni
Nelson Mandela Bay Metropolitan Municipality
City of Joburg
South African Local Government Association (SALGA)
ICLEI – Local Governments for Sustainability – Africa Secretariat
Image copyright: Flickr

Last but not least...
Copyright © 2019 ICLEI European Secretariat GmbH, Freiburg, Germany. All rights reserved.