Welcome to the seventh issue of the Procura+ Update. This newsletter brings together the latest news from the Procura+ European Sustainable Procurement Network and ICLEI's work on sustainable and innovation procurement.
To subscribe to this newsletter, click here or send an email to procurement@iclei.org
---
CONTENTS

HOT TOPIC: SPP strategies for sustainability at Procura+ Seminar 2018


PROCURA+ NETWORK: 2018 Procura+ Awards deadline extended

PROJECT NEWS: SPP Regions achieves CO2 savings using procurement


OTHER NEWS: EcoProcura 2018 Conference: registration open now

Sustainable procurement strategies in the spotlight at Procura+ Seminar 2018 in Oslo

The city of Oslo's Vice Mayor for Finance Robert Steen has used the 15th Procura+ Seminar to highlight how innovative public procurement strategies can achieve ambitious targets at the city level. Vice Mayor Steen delivered an opening speech to more than 100 delegates at the Procura+ European Sustainable Procurement Network's flagship seminar event on 21 March.
"Public procurement is one of the most powerful tools to lower emissions, and it can achieve its full potential through ambitious, coordinated strategies at the city and regional level" said Mayor Steen.

The seminar was also used as the occasion to announce the Procura+ network's new chairperson, Mayor of Malmö (Sweden), Katrin Stjernfeldt Jammeh. "Since Malmö joined in 2012, Procura+ has evolved from a campaign to a diverse network of public authorities and strategic partners with new interest groups on circular and socially responsible public procurement. The field of procurement itself is becoming more embedded and diversified, as policy-makers from local government to the European level realise the potential of public spend as a tool to achieve environmental and social objectives" said Mayor Stjernfeldt Jammeh.

The Procura+ Seminar, organised by ICLEI, was hosted by the City of Oslo and organised in the context of the SPP Regions sustainable procurement networking project.

For more information, visit the Procura+ website.
Image copyright:
Kikkut.no
Procura+ Awards 2018: application deadline for three categories extended to 18 May

The deadline for applications to the 2018 Procura+ Awards has been extended until 18 May 2018 in all three award categories - Sustainable Procurement, Innovation Procurement and Procurement Initiative of the Year. Hosted by Procura+ network coordinators ICLEI in cooperation with the Procure2Innovate project, the competition rewards sustainable and innovative public procurements leading to significant improvements of public good, services, process and infrastructure.
Read more...
Image copyright: Raigo Pajula
SPP Regions consortium saves 394,000 tonnes CO2 through eco-innovative tenders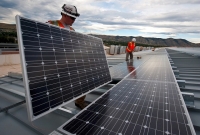 The SPP Regions project, coordinated by ICLEI, concluded in March 2018 achieving emissions savings of 394,000 tCO2/year through eco-innovative tenders carried out in the project's seven regional sustainable procurement networks. The carbon savings achieved equate to the emissions of more than 3 trillion kilometres driven by a new car sold in the EU in 2016 - the equivalent of just over 30 return trips to Mars per year.
Image copyright: pixabay.com

More from our projects
EcoProcura 2018: Registration now open!

Online registration is now available for the 2018 EcoProcura conference to be held in Nijmegen (Netherlands) on 3-5 October 2018. The conference will bring together over 400 delegates on sustainable, innovation, strategic and circular procurement. Additionally, a call for contributions for 4 elements of the EcoProcura conference panel has been extended until 18 May. Updates on high-level speakers, the conference programme and registration are available via the EcoProcura 2018 website.
Last but not least...
Copyright © 2018 ICLEI European Secretariat GmbH, Freiburg, Germany. All rights reserved.