Welcome to the eigth issue of the Procura+ Update. This newsletter brings together the latest news from the Procura+ European Sustainable Procurement Network and ICLEI's work on sustainable and innovation procurement.
To subscribe to this newsletter, click here or send an email to procurement@iclei.org
---
CONTENTS

HOT TOPIC: 20 years of EcoProcura


PROCURA+ NETWORK: 2018 Procura+ Awards nominee shortlist announced

PROJECT NEWS: LEA Followers Network launched


OTHER NEWS: Procura+ Network East Asia launched
Shaping the future through strategic procurement: 20 years of EcoProcura
This year marks the 20th anniversary of the conference series EcoProcura, and as Mark Hidson - Global Director of ICLEI's Sustainable Procurement Centre - reflects in this recent interview, a lot has changed in 20 years in the world of public procurement.
During the first EcoProcura in 1998, the focus was very much on the basics, encouraging cities that they can and should focus on the ecological impact of products in addition to just cost when buying goods. Very quickly, however, the potential of public procurement has spread, to the extent that now - at EcoProcura 2018 in Nijmegen (The Netherlands) - the focus will be on how public procurement is being used more strategically, from driving sustainability in products and services, to stimulating greater innovation, and supporting the transition to a circular economy.
But while there are great examples of strategic procurement in practice, there are still barriers to it being used across the board. Often these are human barriers, such as lack of support from leaders, or lack of confidence or skills in procurers to take on more complex but also more rewarding challenges. Therefore, EcoProcura 2018 will also put an emphasis on behavior and organisational change.
One thing, however, has not changed over the last 20 years - the importance of sharing information and learning from others in the field - and EcoProcura remains a space for practitioners to meet and exchange on their current realities, and get enthused and excited for the future of procurement.
Strategic use of public procurement is an organisation's most direct opportunity to influence our economy and our society as a whole. So join us at EcoProcura to learn more about how public authorities are setting standards and stimulating innovative solutions to society's most pressing needs.
To find more information about EcoProcura, please visit the conference website here.
To read the full interview with Mark Hidson, click here.
Copyright image Patrick Henry (EcoProcura)
12 Candidates in the Running for Procura+ Awards

The scene is set for the 2018 Procura+ Awards, with 12 candidates now through to the next round of selection in the run up to the EcoProcura conference in Nijmegen, the Netherlands, where the winners will be unveiled.
The 12 candidates have been selected from a strong field of two dozen entries in three contest categories: Sustainable Procurement of the Year, Innovation Procurement of the Year, and Procurement Initiative of the Year. With four nominees for each category, a very close contest is expected.
This year's jury is comprised of high-level representatives with vast experience in procurement practice and policy making. Katrin Stjernfeldt Jammeh, Mayor of Malmö and Procura+ Network Chair, Janos Bertok, Head of the Public Sector Integrity Division at the OECD, and Marzena Rogalska, Acting Director of the European Commission's DG Grow are all taking part in the judging process.
Read more...
Image copyright: Raigo Pajula
LEA projects offers support for innovation procurement

Digital technology has revolutionised most parts of our life, but not everywhere has managed to embrace its full potential - in particular, the traditional learning environment of schools.
That's why the LEA project was created - to build experience and examples of how public procurement of innovative new solutions can accelerate learning technology development and improve the learning outcomes of students. Procurers, suppliers, learn tech experts and schools are invited to become LEA Followers.
To find out more about becoming a LEA Follower, please see the LEA website here.
Image copyright: pixabay.com

More from our projects
Procura+ East Asia network for sustainable procurement launched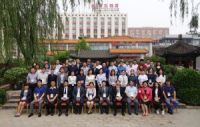 ICLEI East Asia has launched the Procura+ East Asia network, the first network of its kind in the region, which will serve the interests of local governments and accelerate the uptake of green public procurement.
Green public procurement has received increasing attention of decision-makers from emerging economies in Asia as an effective mechanism to achieve emission reduction targets and sustainable development goals, and at EcoProcura China 2018, held in Beijing on 16-17 May, it was officially announced that a new network would be established the uptake of green public procurement across the region.
Participants of Procura+ East Asia will be brought together through regular events and exchange programs to collectively develop new policies and criteria on specific areas related to green procurement. The Procura+ East Asia will also showcase participants' achievement on the global stage and celebrate their success through the Procura+ Awards.
Procura+ East Asia is an affiliated network of Procura+ European Sustainable Procurement Network. For more information, visit the Procura+ East Asia website.
Image copyright: ICLEI East Asia

Last but not least...
Copyright © 2018 ICLEI European Secretariat GmbH, Freiburg, Germany. All rights reserved.